Event Duration: 20 Dec 19~ 03 Jan 20
1. There are two card pools for this event: 10x Step Pool and Super Pool.
2. 10x Step Pool draws cost 10 Badges, which can be bought from the Mall. Get 1 Spear from each 10x draw.
3. When you reach a certain number of 10x draws in the Step Pool, you'll get a bonus reward.
4. Spear s are used in the Super Pool.
5. In the Super Pool, there are only SR & UR cards, and the odds of drawing a Food Soul vary depending on the number of Scythes you spend.
Billowing Smoke (Super)
Super Card Pool Opening! Tons of URs Inside!
1. The draw item for this card pool is given out for doing 10x draws in Billowing Smoke (Step).
2. This card pool only contains SR & UR Food Souls.
3. The quality of the cards you draw will vary depending on the number of draw items you spend.
Items Shop
| Item | Price | Number of Exchanges |
| --- | --- | --- |
| | 100 | Max 30 Times |
| | 150 | Max 40 Times |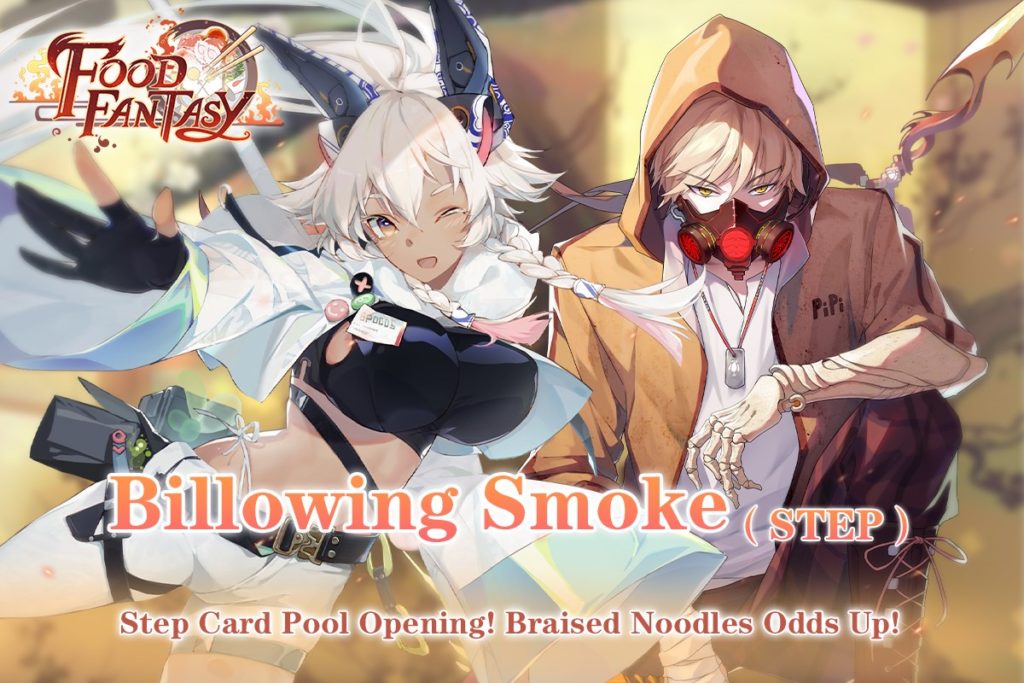 STEP Pool
Every draw is 10x Summon which requires 10 Spears. Every draw gives 1 Scythe.
STEP Rewards
| | |
| --- | --- |
| Number of 10x Summons | Rewards |
| 1 | 200 |
| 3 | |
| 5 | |
| 7 | |
| 9 | 30 |
Summon Rates
Summoning Rates
3.01%
16.61%
78.53%
1.85%
UR Rates
| | | | |
| --- | --- | --- | --- |
| | 1.00% | | 0.62% |
| | 0.62% | | 0.25% |
| | 0.14% | | 0.14% |
| | 0.14% | | 0.05% |
| | 0.05% | | |
SR Rates
| | | | |
| --- | --- | --- | --- |
| | 4.98% | | 0.60% |
| | 0.60% | | 0.60% |
| | 0.40% | | 0.40% |
| | 0.40% | | 0.40% |
| | 0.40% | | 0.40% |
| | 0.40% | | 0.40% |
| | 0.39% | | 0.39% |
| | 0.39% | | 0.39% |
| | 0.39% | | 0.39% |
| | 0.39% | | 0.39% |
| | 0.39% | | 0.39% |
| | 0.39% | | 0.39% |
| | 0.39% | | 0.39% |
| | 0.39% | | 0.39% |
| | 0.39% | | |
R Rates
| | | | |
| --- | --- | --- | --- |
| | 3.74% | | 3.74% |
| | 3.74% | | 3.74% |
| | 3.74% | | 3.74% |
| | 3.74% | | 3.74% |
| | 3.74% | | 3.74% |
| | 3.74% | | 3.74% |
| | 3.74% | | 3.74% |
| | 3.74% | | 3.74% |
| | 3.74% | | 3.74% |
| | 3.74% | | 3.74% |
| | 3.73% | – | – |
M Rates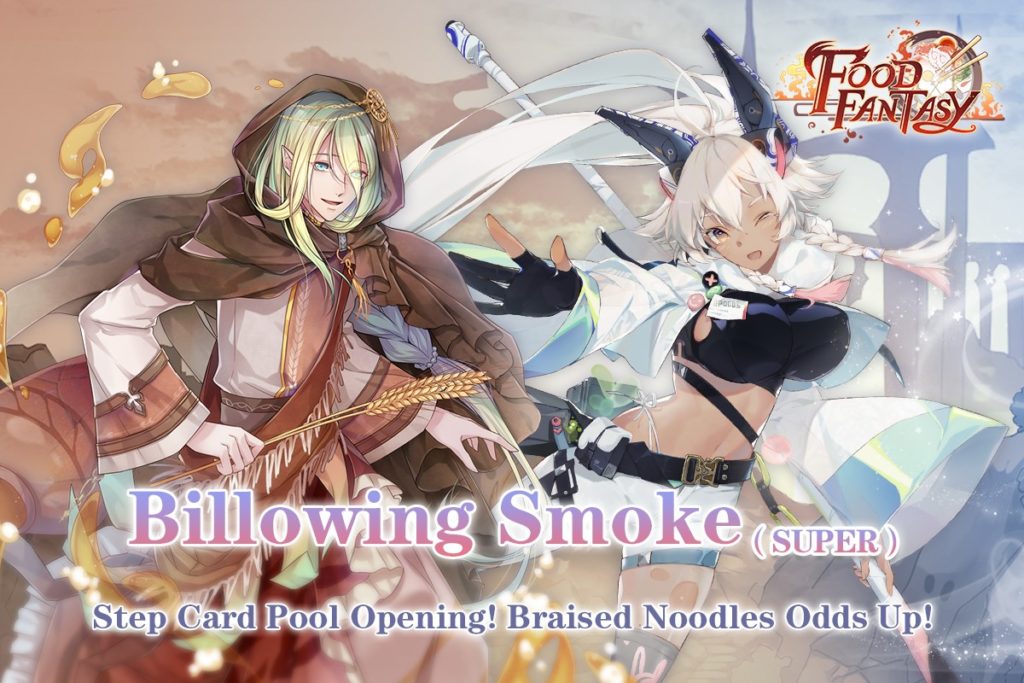 SUPER Pool
5 Scythes for 80% SR / 20% UR Draw
10 Scythes for 50% SR / 50% UR Draw
15 Scythes for 100% UR Draw
80% SR / 20% UR
50% SR / 50% UR
100% UR

7.0%
7.0%
17.0%

8.0%
8.0%
13.0%

7.0%
7.0%
13.0%

7.0%
7.0%
13.0%

3.0%
3.0%
8.0%

3.0%
3.0%
8.0%

3.0%
3.0%
8.0%

3.0%
3.0%
8.0%

2.0%
2.0%
4.0%
2.0%
2.0%
4.0%

2.0%
2.0%
4.0%

2.0%
2.0%
–

4.0%
4.0%
–

4.0%
4.0%
–

4.0%
4.0%
–

4.0%
4.0%
–

4.0%
4.0%
–

4.0%
4.0%
–

4.0%
4.0%
–

4.0%
4.0%
–

4.0%
4.0%
–

3.0%
3.0%
–

3.0%
3.0%
–

3.0%
3.0%
–

3.0%
3.0%
–

3.0%
3.0%
–