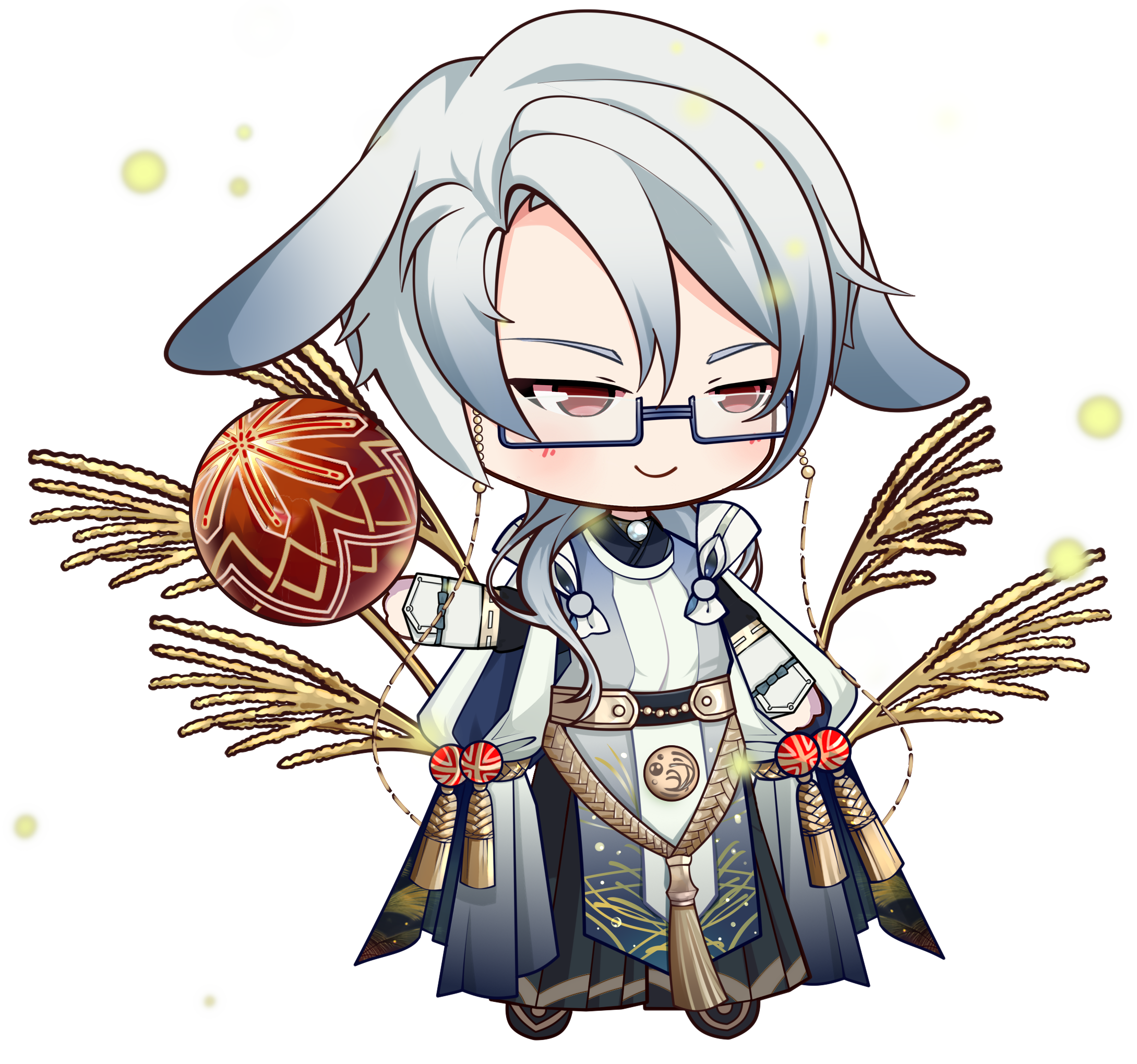 Name
Tsukimi Dango
Initial Stats/Ascended Stats
Rarity
Atk
50/
Type
Support
Def
22/
Fav Food
Chinese Yam and Squab Soup
HP
408/
CN VA
Cao Zhen (曹真)
Crit
512/2057
EN VA
-
Crit. Dmg
512/2057
JAP VA
Mikami Jou
Atk Spd
1164/4446
Availability
Ranking Event
Fallen Angels
Enhanced Uke Mochi
Cimeter
Basic
Fantastic Fireworks
Tsukimi Dango heals the ally with the lowest HP for 134 health, also granting them 15 Energy.
Energy
Moon Song
Tsukimi Dango heals all allies for 10% of their missing health, also reducing their skill damage taken by 30% for 5 seconds.
Linked with -
-
-
Bio
A gentle young man always seems to be thinking of everyone, claiming to have no fighting power, but the smile on the corner of the mouth makes him feel that he is not that simple.
Recipes
Tsukimi Dango
Type
Dessert
Birthplace
Japan
Birthyear
Est. 10th Century
Personality
Gentle and elegant
Height
180cm
Relations
Likes: Unadon
Dislikes: -
Motto
The moon of times passed; that is the most beautiful scenery.
Introduction
In Japan, August 15th of the lunar calendar is called "Moon Festival", and the night of this day is called "Fifteen Nights". In the Moon Festival, eat a dumpling made of Jiangmi, called "Yuemi Tuton". Jiangmi is a kind of glutinous rice. There is also a custom of moon-watching at the Moon Festival in Japan. Some temples and shrines also hold special moon-watching meetings. Since the Heian period of more than a thousand years ago, the Mid-Autumn Festival has spread from China to Japan. The custom of holding banquets while enjoying the moon is called "moon watching banquet". Since this period is the harvest season for various crops, in order to express gratitude to nature's blessings, the Japanese will hold various celebrations, and some temples and shrines will also hold a special moon-viewing festival on the Mid-Autumn Festival.
[SR][Support] Food Soul