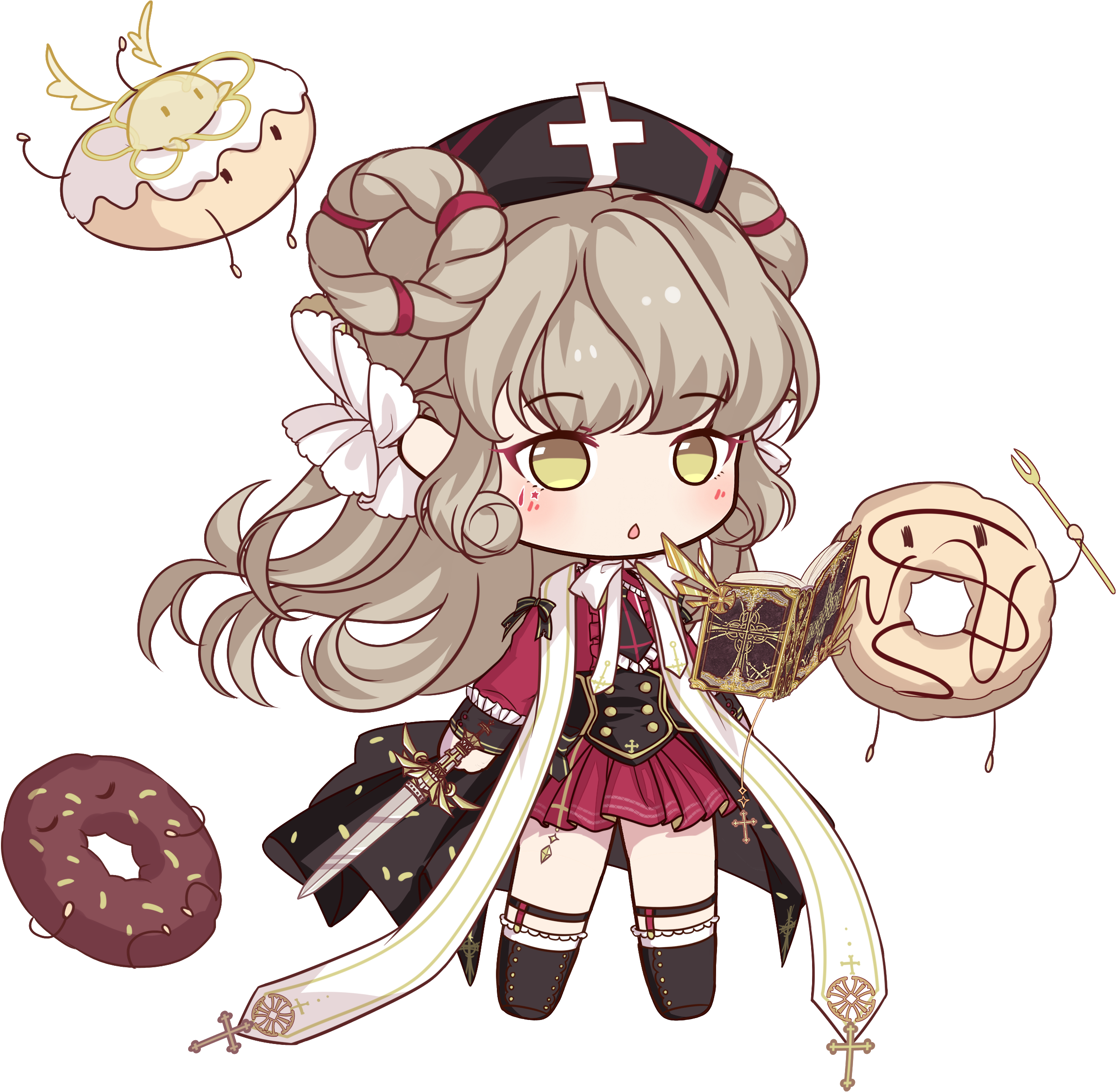 Name
Donut
Initial Stats/Ascended Stats
Rarity
Atk
53/
Type
Strength
Def
12/
Fav Food
Mushroom Chicken Stew
HP
400/
CN VA
Yang Ou (杨鸥)
Crit
1365/6110
EN VA
-
Crit. Dmg
653/2810
JAP VA
Uesaka Sumire
Atk Spd
100/3700
Availability
Event (Solemn Sabbath)
Fallen Angels
Uke Mochi
Chappybara
Basic
Scripture Blessing
Donut applies her knowledge of scripture, dealing 100% Atk damage to a single enemy plus 95 extra damage, while also recovering 10 pts of energy for herself.
Energy
Lord's Decree
Donut chants a curse, dealing 100% Atk damage to a single enemy target and adding <420 points of damage. When the target's HP is lower than or equal to 10%, a slaying effect is triggered, killing the target instantly.
Linked with -
-
-
Togi Node 1 (Atk Spd)
| | |
| --- | --- |
| Antler Togi (1st effect) | During battle, CRIT RATE is increased by 6% (Max. Lv. 30%). |
| Striped Togi (2nd effect) | During battle, ATK SPD is increased by 6% (Max. Lv. 30%). |
| Bushy Togi (3rd effect) | During battle, ATK is increased by 4% (Max. Lv. 20%). |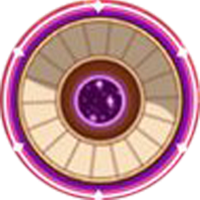 Togi Node 2 (Crit Dmg)
| | |
| --- | --- |
| Antler Togi (1st effect) | Normal attack damage is increased by 40%, and normal attacks have a 40% chance to inflict 6% ATK (Max. Lv. 30% ATK) each second to the two closest enemies for 4 seconds. This skill can only be activated once every 10 seconds. |
| Striped Togi (2nd effect) | Normal attack damage is increased by 40%, and normal attacks have a 40% chance to inflict 6% ATK (Max. Lv. 30% ATK) each second to the two furthest enemies for 4 seconds. This skill can only be activated once every 10 seconds. |
| Bushy Togi (3rd effect) | Normal attack damage is increased by 40%, and normal attacks have a 40% chance to inflict 10% ATK (Max. Lv. 50% ATK) each second to the closest enemy for 4 seconds. This skill can only be activated once every 10 seconds. |
Togi Node 3 (Crit Rate)
| | |
| --- | --- |
| Antler Togi (1st effect) | Normal attacks have a 40% chance to inflict 12% ATK (Max. Lv. 60% ATK) to the target. |
| Striped Togi (2nd effect) | Normal attacks have a 50% chance to inflict 6% ATK (Max. Lv. 30% ATK) to the target, and a separate 50% chance to stun the target for 2 seconds. |
| Bushy Togi (3rd effect) | Normal attacks inflict an additional 1% ATK (Max. Lv. 10% ATK) to the target. If the target has less than 40% HP, inflicts an additional 10% ATK (Max. Lv. 50% ATK). |
Togi Node 4 (Atk Spd)
| | |
| --- | --- |
| Antler Togi (1st effect) | Aura effect: After attacking, Donut and the closest ally inflict 24% ATK (Max. Lv. 120% ATK) to the closest enemy. This skill can only be activated once every 10 seconds. |
| Striped Togi (2nd effect) | Aura effect: After attacking, Donut and the closest ally inflict 24% ATK (Max. Lv. 120% ATK) to the furthest enemy. This skill can only be activated once every 10 seconds. |
| Bushy Togi (3rd effect) | Aura effect: After attacking, Donut and the closest ally inflict 12% ATK (Max. Lv. 60% ATK) to all enemies. This skill can only be activated once every 10 seconds. |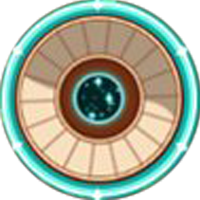 Togi Node 5 (Atk)
| | |
| --- | --- |
| Antler Togi (1st effect) | After using a basic skill, inflicts 24% ATK (Max. Lv. 120% ATK) to the closest enemy. |
| Striped Togi (2nd effect) | After using a basic skill, inflicts 10% ATK (Max. Lv. 50% ATK) to the two closest enemies. |
| Bushy Togi (3rd effect) | After using a basic skill, inflicts 6% ATK (Max. Lv. 30% ATK) to the closest enemy. If they have less than 40% HP, inflicts an additional 30% ATK (Max. Lv. 150% ATK). |
Bio
Looks solemn and chilly on the outside, but inside she's a total girly-girl. She believes that the existence of Food Souls on Tierra is a blessing to humanity, and she wants to spread goodness and love throughout the world. As a soldier, she holds herself to strict standards.
Recipes
Donut
Type
Desserts
Birthplace
Unknown
Birthyear
Unknown
Personality
Earnest
Height
155cm
Relations
Likes: -
Dislikes: -
Motto
Spread goodness and love together!
Introduction
Aside from how good they taste, just on looks alone donuts are able to win over most people. In recent times, the donut has made whirlwind progress and occupies a very high place in the food pantheon. Some people have even made a special donut holiday so that everyone can enjoy them even more.
[SR][Strength] Food Soul