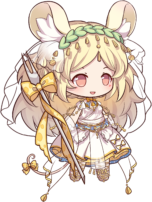 Name
Cheese
Initial Stats/Ascended Stats
Rarity
Atk
20/
Type
Magic
Def
11/
Fav Food
Har Gow
HP
236/
CN VA
Mang Yin (忙音)
Crit
842/3355
EN VA
Larissa Gallagher
Crit. Dmg
353/1213
JAP VA
Hayami Saori
Atk Spd
503/1513
Availability
Event (Halloween Amusement Park!)
Fallen Angels
Tsuchigumo
Garuda
Basic
Sweet Temptations
Cheese raises her hand and lowers the defense of the enemy with the highest Atk by 1 point for 3 seconds.
Energy
Golden Surprise
Cheese unleashes an attack on the enemy with the highest Atk and deals 100% damage plus an additional 300 damage on them.
Linked with -
-
-
Restaurant Skills
Work Out
The Food Soul's Freshness is increased by 10 points. (+10 per level)
0☆
All the Rage II
Increases the Restaurant's customer flow by 12/hour. (+6 per level)
1☆

Good Appetite
Customers have a 5% chance to eat 1 additional portion of food. (+1% per level)
3☆

Famous Reputation II
Customers give 1 extra fame point at the end of their meal. (+1 per level)
5☆

Bio
Open-minded and kind-hearted. This Food Soul likes to socialize and has a massive appetite! She can often tease people but gets away with it because of her beauty and intellect. Her favorite thing to do is tease Pizza. When her tricks fail, she can get quite upset. But, just give her some food and she'll be happy again!
Recipes
Cheese
Type
Dairy Product
Birthplace
Third Dynasty of Ur
Birthyear
2000 BC
Personality
Energetic
Height
157cm
Relations
Likes: Pizza, Cassata
Dislikes: Whiskey
Motto
I'm hungry again... Let me just indulge a bit!
Introduction
The origin of cheese is very complex. It's hard to say where and when it originated from as the origins are countless. Pair it with some simple crackers for an afternoon snack, use it in your ramen hotpot as a delicious condiment, or slide it between two pieces of bread to add that extra flavor. No matter how you use cheese, it's always delicious.
[M][Magic] Food Soul