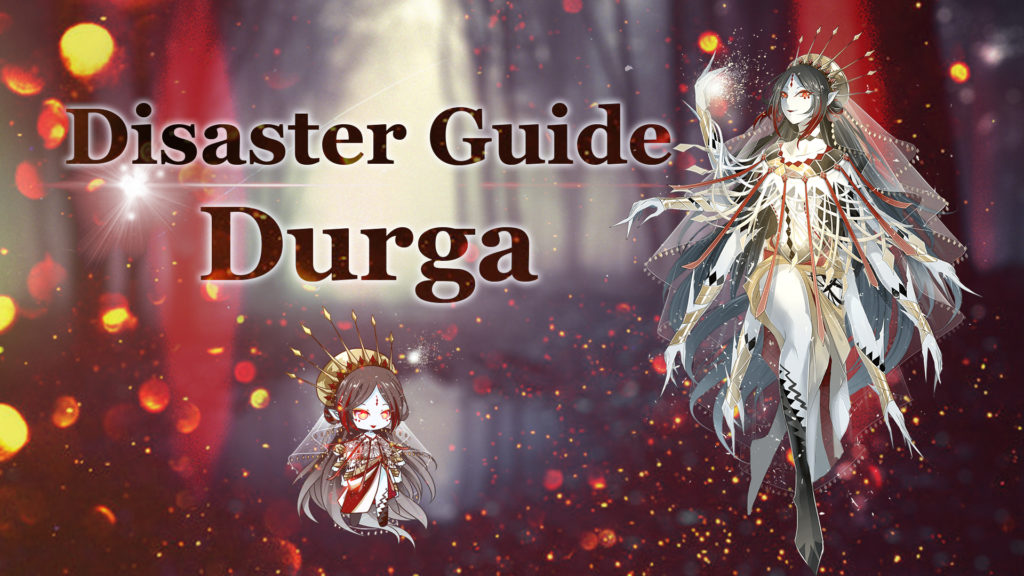 Main features and attributes of Durga
● Immune to normal attacks. (Only basic, energy and linked skills do damage)
● Durga's Atk increases as battle drags on.
● Damages closest target based on Durga's Atk.
● Gains invincibility but can be dispelled.
● Does an AOE (Area of Effect) skill and puts a DOT (Damage over time) on
to your whole team. The DOT cannot be dispelled. This skill's damage will increase over time.
Countering the 3 main features
1. Immune to normal attacks. (Only basic, energy and linked skills do damage)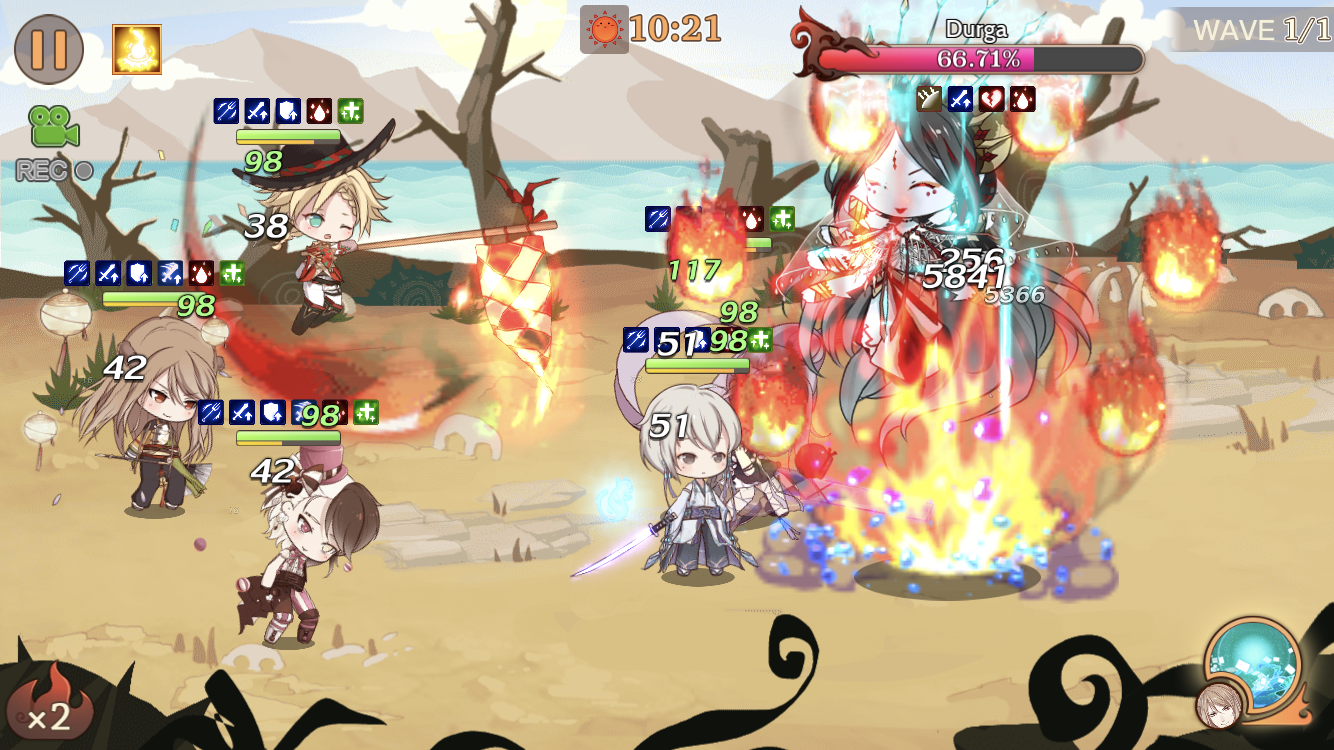 Best to use pure attack food souls with both basic and energy skills doing high % damage. These food souls include Champagne, Pizza, Turkey, Double Scoop, Bamboo Rice, Boston Lobster, Sanma, Cassata, American Corn Bread, Red Wine, Hamburger, Black Tea. Mapo Tofu is a special case even though she possesses CC ability, she can deal very high damage on par with Pizza or Champagne. Food souls with artifacts and the offensive nodes unlocked will obviously provide more damage. Thus the best food souls to use will be Mapo Tofu, Turkey, Pizza and Champagne. Atk Spd FAs are recommended.
2. Gains invincibility but can be dispelled.


Main obstacle which prevents damage, currently able to be dispelled by Toso, Butter Tea, Champagne, Mooncake and Bonito Rice. Toso is the old go to choice due to its basic ability to not only dispel but also dealing great damage and providing energy to team. Rum is the new top choice due to its feature that boosts her availability compared to Toso and her superior energy regeneration skill. Butter Tea is another superb choice albeit its availability due to its ability to increase teammates' Atk Spd in addition to energy generation. Champagne can be very useful to remove the boss's invincibility when paired with Fondant Cake. This allows him to time his linked skill accordingly which yields great results. Bonito Rice dispels and adds much survivability to the team but sacrifices on damage. Go for Atk Spd fallen angels to trigger dispel as much as possible.
3. Does an AOE (Area of Effect) skill and puts a DOT (Damage over time) on to your whole team. The DOT cannot be dispelled. This skill's damage will increase over time.
Healers with decent group heals are recommended to counter this AOE damage, with choices of Nagashi Somen, Bibimbap, Milt, Sweet Tofu, Osechi, Miso Soup. Go for Atk or Atk Spd fallen angels depending on your choice. Recommending Atk for Osechi and Miso Soup, Atk Spd for the rest. Of note, Milt is only recommended if using with Caviar to trigger her powerful linked skill, but using Caviar also means loss of damage. As mentioned above for Champagne, Fondant Cake can be a great healer when paired up with Champagne for Champagne's triggered linked skill, while also providing group healing. Osechi and Miso Soup are special healers who does damage on their basic skill. Thus only usable when using double healers or your team is able to survive with just Osechi or Miso Soup (Very unlikely). Sweet Tofu with High Atk Spd is a decent choice if paired with Pizza with artifact node 1 opened.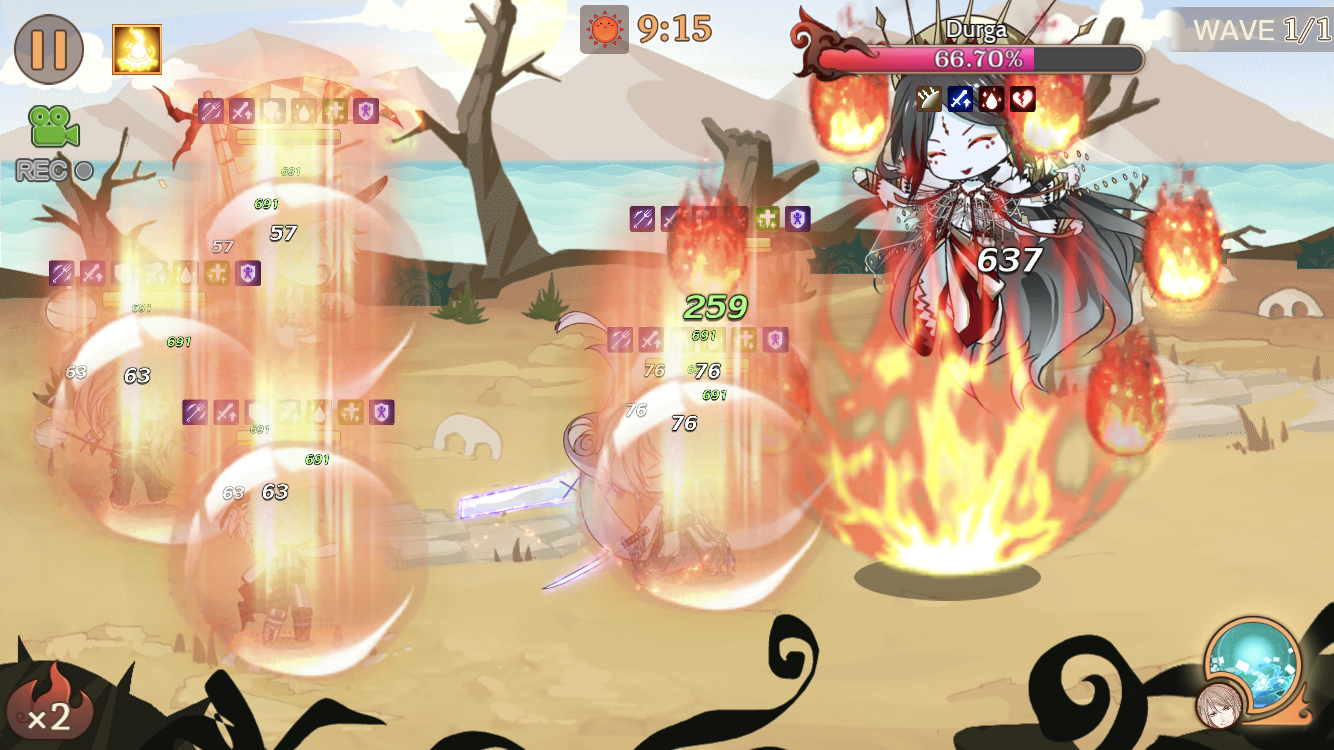 Another food soul that can counter this feature is Bonito Rice with his reduced damage skill. He can dispel invincibility too as mentioned above. However he takes up a slot and compromises a lot on damage and not highly recommended.
Cloud Tea is a unique food soul which can help generate huge amount of energy for the team and good to use as the leader but she compromises on heals. Not highly recommended but usable in certain team comps.
Special Mention
There are a few food souls which breaks the meta through stringent conditions and combinations. These team comps with these special food souls can achieve damage through brute damage. Examples of these food souls are Beer, Cloud Tea, Butter Tea and Toso. Beer if raw brute Atk and Atk Spd while the other 3 generates huge amount of energy with the right conditions.
Notable Pairings
These pairings produce great synergies and are recommended to try them out if your team comp happens to include either one of them. Not compulsory to follow these pairings if fallen angels, stars are not desirable or better food soul choices are available.
Artifacts
Regarding Artifacts, more nodes is always better. This is especially true for Durga as her immunity to normal attacks does not affect artifacts' effects. Below are the a few artifacts benchmarks for various food souls in this world boss fight:
Mapo Tofu's artifact should aim for at least node 3 or more to maximize her damage for Durga.
Turkey's artifact should aim for at least node 3 or more to maximize his damage for Durga.
Pizza's artifact should get to node 1 to trigger immunity to continuous damage if trying for 1 healer build. However, this will greatly lower energy regeneration of the team.
Champagne's artifact will greatly improve his power at node 2 or above.
Sweet Tofu's artifact is enough and effective at node 1 but the more the merrier.
Boston Lobster's artifact offers dispel at node 4, combined with his artifact's superior buffing abilities makes him a very good choice if nodes are enough.
Team Composition & Fallen Angels
Durga's attacks do not deal % damage, thus there is no need to control the HP of your team. Tank/defence souls are also not required in this fight because of this reason. However, HP of food souls should not be too low, at least 3k and up. Recommended blessing to buy and use will be reduced damage if not using Bonito Rice, if not the other 2 can be used to increase survivability & damage. Recommended to use 2 healers and 3 DPS for best results. Also recommending usage of Sanma with Miso Soup. I cannot stress enough how powerful Miso Soup is in scenarios like this. He is dealing significant damage while providing good heals.
Team Comp 1 (Conventional Dispels) :
1 x Dispeller
2 x Attackers
2 x Healers
Double healer, best to choose a group healer like Bibimbap, Somen or Sweet Tofu and a DPS healer like Osechi or Miso Soup. Champagne is a great choice due to his ability to deal insane damage, buff his own Atk Spd and even help to dispel! Good Atk Spd FAs are recommended for Dispellers and Attackers and Sweet Tofu. Sanma and Miso Soup can stick to Atk FAs. The key to survive past 6min is to alternate healing between the healers, manual triggering Miso Soup's heals when Sweet Tofu energy is at 40-50%.
Team Comp 2 (Bonito Rice Damage Reduction):
Bonito Rice
2 x Attackers
2 x Healers

Bonito as a replacement for Toso/Mooncake to dispel the boss's invincibility while reducing damage taken of the whole team at the same time. Blessings can be changed to energy recovery or attack boost if Bonito is used.
Good Atk Spd FAs are recommended for Bonito, attackers and Sweet Tofu. Usage of Bonito's damage reduction skill should be when the bosses uses the AOE ability. Note that Durga's AOE ability is permanent.
Team Comp 3 (Survival focused, Ignores dispelling):


This Comp ignores dispelling of Durga's invincibility and focus on pure damage. The result can be very good while not requiring specialized food souls like Toso, Moon Cake or Bonito. High level resolute FAs are recommended for the attackers but are not required for Caviar and Milt to execute this team comp. Damage reduction blessing should be bought to last whole fight. However, Milt's linked skill should be of significant level to heal through the whole fight. The key to survive past 6min is to trigger Milt's skill whenever possible.
Team Comp 4 (Energy Regeneration):
Toso/Rum
Cloud Tea
2 x Attackers
1 x Healer
Toso/Rum, Cloud Tea and Butter Tea provides insane energy regeneration in this team comp to provide more energy skills to be unleashed. Thus resulting in adequately more damage while also providing fast energy heals from the Healer. As usual, good Atk Spd FAs should be used for the team except if using Miso Soup. Of note, if using Sanma, the healer should be Miso Soup to maximize heals and damage.
Team Comp 5 (Champagne Debuffer):
Fondant Cake
Champagne
2 x Attackers
1 x Healer


This comp yields great results, one of the top team comps here if you have a high star champagne and a decent fondant cake. Using fondant cake, this comp eliminates RNG and ensures that the boss's invincibility will always be dispelled by Champagne. Only downfall of this team is lack of heals by Fondant Cake when using high HP attackers like Turkey. Damage reduction blessing is highly recommended in this build to extend survival time. This team might not last til the end but the overall damage makes up for that. Play around with different healers to maximize survival time.
Team Comp 6 (Beer Power):
Beer
1 x Healer
3 x Attackers

Using beer power for his basic ability which drastically improves Atk Spd and Atk. Atk spd FAs need to be top-notch to max out every food souls' atk spd. There is also a need for high stars, especially for the healer role. Group healers Bibimbap, Nagashi Somen, Sweet Tofu are recommended. Pizza's artifact should be at least at node 1 to reduce damage taken to the team to ensure survival. Upon reaching stable survivability of the team with the above requirements, the damage output will be dependent on artifacts' nodes. The higher the nodes, the better the overall damage.
Team Comp 7 (Buttery Goodness):
Butter Tea
2 x Attackers or 3 Attackers
2 Healers or 1 x Healer

Requirements for this team depending on the number of attackers will vary. If you has Pizza with artifact node 1 unlocked, 3 Attackers can be used with just 1 Healer to sustain the team. Otherwise, 2 Healers will be needed to survive the whole fight as the boss's DOT will become increasingly straining for the team. Healers can be chosen from Nagashi Somen, Bibimbap, Sweet Tofu or Fondant Cake depending on your survival ability. Use pure healers like Nagashi Somen or Sweet Tofu if unable to survive towards the end.
Team Comp 8 (Butter Beer):
Butter Tea
Beer
2 x Attackers
1 x Healer


A special combo using Butter Tea's speed boost to let Beer cast his basic faster. Although conflicting in nature, this team comp can work if Beer's Atk Spd has not reached cap. Requires high level Atk Spd FAs for the whole team, focusing priority on healer, Beer and Butter Tea. Healer preferably to use group healer like Nagashi Somen or Sweet Tofu. Pizza should be used with artifact node 1 unlocked, if not the team has a chance to wipe after 2 minute mark.
Team Comp 9 (Lobster Beer):
Boston Lobster
Beer
2 x Attackers
1 x Healer


Node 4 Boston Lobster is a must for this combination to make use of his dispel ability. Beer is there to increase speed but mainly to increase overall damage. Group heals preferred like Nagashi Somen or Sweet Tofu.
Other combos will be added after testing =D. If you have a good team composition, feel free to comment or email us!!
P.S: Some food souls' pages arent up yet! we are working on them!
Hints and Tips
Look out for the invincibility symbol on the boss! The longer it stays on, the less damage you are dealing to her! Thus if you feel your Toso or Mooncake is not clearing the invincibility as often, you can try resetting for a better result!