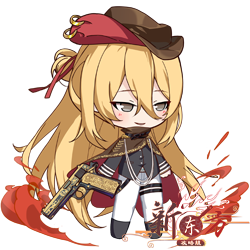 Name
Tequila
Initial Stats/Ascended Stats
Rarity
Atk
50/
Type
Magic
Def
13/
Fav Food
Crab Rice Caje
HP
389/
CN VA
Xiao Xin (小忻)
Crit
865/3847
EN VA
-
Crit. Dmg
654/2816
JAP VA
-
Atk Spd
1943/7473
Availability
Event
Fallen Angels
Thundaruda
Poor Spirit
Basic
Alcohol Distillation
Tequila deals 100% of his Atk stat and an additional 75 points of damage to the foe with the highest Atk, also reducing their Atk Spd by 15% for 3 seconds.
Energy
Lost in Aroma
Tequila causes all allies to heal for 88 health on their next 5 normal attacks, also increasing their normal attack damage by 25% for 5 seconds.
Linked with -
-
-
Bio
Tequila loves to go on adventures and hunt Fallen Angels. He's known for being an optimist but would show a rather agitated side of him when faced with mistakes. Because of an old friend, he joined the Church. To prevent his companions from suffering those types of tragedies, he would try his best and his mannerisms have been noted to be exceptionally noble.
Recipes
Tequila
Type
Alcohol
Birthplace
Mexico
Birthyear
3rd Century
Personality
Overt
Height
173cm
Relations
Likes: Margarita
Dislikes: -
Motto
I will help you dispel those shadows which are destined for tragedy.
Introduction
A drink made from the blue agave plant, Tequila originates from Mexico and is known as the "Spirit of Mexico". The burning, yet tangy taste of traditional Mexican Tequila is unforgettable.
[SR][Magic] Food Soul