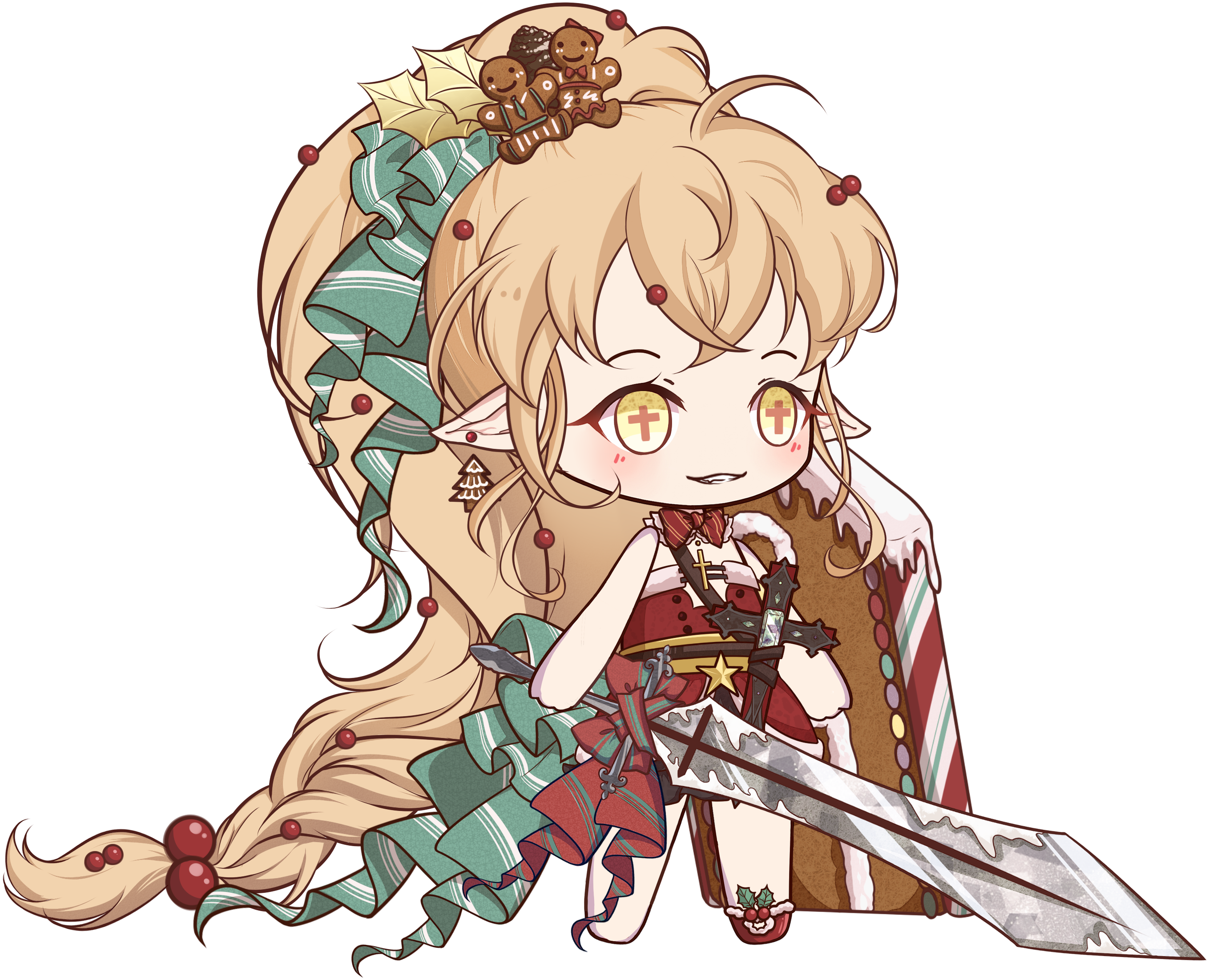 Name
Gingerbread
Initial Stats/Ascended Stats
Rarity
Atk
40/
Type
Defense
Def
32/
Fav Food
Unagi Don
HP
855/
CN VA
Wang Yanhua (王燕华)
Crit
1089/5049
EN VA
Kat Cressida
Crit. Dmg
998/4593
JAP VA
Hanazawa Kana
Atk Spd
611/2401
Availability
Summon, Shard Fusion (Same Rank), Event (Sweet Temptations, Candy Strike!)
Fallen Angels
Thundaruda
Ghostern
Basic
Silent Cross
Gingerbread's shield can withstand anything, allowing her to absorb up to 40 damage for 3 seconds, with a probability of stunning one random enemy unit for 2 seconds.
Energy
Shimmering Christmas
Gingerbread brandishes her sword, emitting a radiance that increases her Atk and Def by 5 and 30% respectively for 10 seconds, while the enveloping light makes her invulnerable for 3 seconds.
Linked with -
-
-
Togi Node 1 (HP)
| | |
| --- | --- |
| Antler Togi (1st effect) | When Gingerbread's HP is higher than 40%, everytime she receives healing, deals ATK 12% (Max. Lv. 70%) damage to nearest three enemies. |
| Striped Togi (2nd effect) | When Gingerbread's HP is higher than 40%, everytime she receives healing, cast a damage reduction effect to nearest three allies which reduces damage dealt by 10% (Max. Lv. 60%) for 3s. |
| Bushy Togi (3rd effect) | When Gingerbread's HP is higher than 40%, everytime she receives healing, deals ATK 12% (Max. Lv. 70%) damage to enemy with highest ATK, also has 10% (Max. Lv. 60%) chance to stun for 2s. |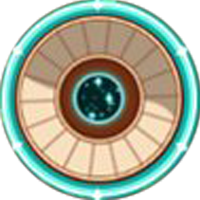 Togi Node 2 (Atk)
| | |
| --- | --- |
| Antler Togi (1st effect) | Triggers a special skill once every 10 seconds: Deals ATK 21% (Max. Lv. 120%) damage to nearest enemy, while recovering self 1.5% of max HP. |
| Striped Togi (2nd effect) | Triggers a special skill once every 10 seconds: Deals ATK 21% (Max. Lv. 120%) damage to nearest enemy, also stuns for 2s. |
| Bushy Togi (3rd effect) | Triggers a special skill once every 10 seconds: Deals ATK 21% (Max. Lv. 120%) damage to nearest enemy, also has 40% chance to cleanse negative debuffs from ally team. |
Togi Node 3 (Def)
| | |
| --- | --- |
| Antler Togi (1st effect) | When Gingerbread's HP is lower than 20%, after receiving damage, recovers 0.88% (Max. Lv. 5%) of missing HP per second for 4s. This effect can only be triggered once every 20s. |
| Striped Togi (2nd effect) | When Gingerbread's HP is lower than 20%, after receiving damage, recovers 2.2% (Max. Lv. 12.5%) of missing HP per second for 4s, also dispels positive buffs from whole enemy team. This effect can only be triggered once every 40s. |
| Bushy Togi (3rd effect) | When Gingerbread's HP is lower than 20%, after receiving damage, recovers 4.4% (Max. Lv. 25%) of missing HP per second for 4s, also gains invincibility for 6s. This effect can only be triggered once. |
Togi Node 4 (Def)
| | |
| --- | --- |
| Antler Togi (1st effect) | After casting a skill, deals ATK 29% (Max. Lv. 170%) damage to random three enemies. |
| Striped Togi (2nd effect) | After casting a skill, deals ATK 14% (Max. Lv. 80%) damage to enemy with highest ATK, if the enemy's HP is lower than 30%, deals additional ATK 26% (Max. Lv. 150%) damage. |
| Bushy Togi (3rd effect) | After casting a skill, deals ATK 17% (Max. Lv. 100%) damage to enemy with highest ATK, if the enemy's HP is lower than 30%, recovers self 2% of missing HP. |
Togi Node 5 (HP)
| | |
| --- | --- |
| Antler Togi (1st effect) | During battle, received damage is reduced 2.6% (Max. Lv. 15%); if Gingerbread's HP is higher than 70%, every attack has 17% (Max. Lv. 100%) chance to cleanse negative debuffs from nearest two allies. |
| Striped Togi (2nd effect) | During battle, received damage is reduced 2.6% (Max. Lv. 15%); if Gingerbread's HP is higher than 70%, every attack has 17% (Max. Lv. 100%) chance to deals ATK 50% damage to nearest enemy. |
| Bushy Togi (3rd effect) | During battle, received damage is reduced 2.6% (Max. Lv. 15%); if Gingerbread's HP is higher than 70%, every attack has 17% (Max. Lv. 100%) chance to dispel positive buffs from nearest two enemies. |
Bio
Gingerbread may appear small and weak, but her strength far exceeds her stature. For her, guarding objects of importance is her purpose. In order to achieve this goal, she crosses the boundaries between good and evil, using her strong shield to block danger and her sharp sword to cut through obstacles.
Recipes
Gingerbread
Type
Dessert
Birthplace
Europe
Birthyear
15~16th Century
Personality
Egoistic
Height
156cm
Relations
Likes: Red Wine
Dislikes: -
Motto
I will do my best to exterminate those who rebel against the natural order of things, whether they are close relatives or enemies.
Introduction
Gingerbreads are a holiday favourite. It's a snack that can be made into amazing structures and can be enjoyed with a nice hot glass of milk.
[UR][Defense] Food Soul