Event Duration: 19 Feb 2019 ~ 26 Feb 2019
A Sudoku gacha event that uses event item "lolipop" gotten from Winter Music Event or 50 crystals each draw.
Total of 9 prizes each round, each prize can only be drawn once. You will move to the next round once you draw the grand prize for the round, 11 rounds in total.
The key prize is the unique frame on the 11th round. The rest of the prizes are quite shitty to be honest, maybe Elex will change them?
Prizes list (from CN server)
1st Round
Grand Prize: Adv Togi Grabber x4
Prize 1: Mirror Image x1
Prize 2: Black Tea Trial Ticket x1
Prize 3: Basic Seasoning x10
Prize 4: Spirit Reincarnator x5
Prize 5: Tom Yum Trial Ticket x5
Prize 6: Spirit Ember x50
Prize 7: Crab Long Bao Trial Ticket x1
Prize 8: Evolution Stone x6
2nd Round
Grand Prize: Normal Togi Grabber x10
Prize 1: UR Trial Ticket x1
Prize 2: Intermediate Seasoning x3
Prize 3: Tom Yum Trial Ticket x5
Prize 4: Evolution Stone x5
Prize 5: Black Tea Trial Ticket x1
Prize 6: Spirit Ember x50
Prize 7: Mirror Image x1
Prize 8: Gold x90,000
3rd Round
Grand Prize: Normal Togi Grabber x15
Prize 1: Basic Seasoning x10
Prize 2: Black Tea Trial Ticket x2
Prize 3: Spirit Ember x50
Prize 4: Commission Voucher x8
Prize 5: Cloud Tea Trial Ticket x1
Prize 6: Gold x90,000
Prize 7: Tom Yum Trial Ticket x8
Prize 8: Mirror Image x1
4th Round
Grand Prize: Adv Togi Grabber x5
Prize 1: Tom Yum Trial Ticket x7
Prize 2: UR Trial Ticket x1
Prize 3: Exploration Speed Up Coupon x10
Prize 4: Spirit Ember x50
Prize 5: Commission Voucher x8
Prize 6: Basic Seasoning x10
Prize 7: Gold x90,000
Prize 8: Black Tea Trial Ticket x2
5th Round
Grand Prize: Adv Togi Grabber x6
Prize 1: Exploration Speed Up Coupon x8
Prize 2: Spirit Ember x50
Prize 3: Commission Voucher x8
Prize 4: Gold x90,000
Prize 5: Basic Seasoning x10
Prize 6: Tom Yum Trial Ticket x6
Prize 7: Black Tea Trial Ticket x4
Prize 8: Cloud Tea Trial Ticket x1
6th Round
Grand Prize: Normal Togi Grabber x18
Prize 1: Spirit Reincarnator x5
Prize 2: Evolution Stone x6
Prize 3: Mirror Image x1
Prize 4: Black Tea Trial Ticket x1
Prize 5: Basic Seasoning x10
Prize 6: Tom Yum Trial Ticket x5
Prize 7: Spirit Ember x50
Prize 8: Crab Long Bao Trial Ticket x1
7th Round
Grand Prize: Normal Togi Grabber x20
Prize 1: UR Trial Ticket x1
Prize 2: Black Tea Trial Ticket x1
Prize 3: Tom Yum Trial Ticket x5
Prize 4: Spirit Ember x50
Prize 5: Gold x90,000
Prize 6: Intermediate Seasoning x3
Prize 7: Mirror Image x1
Prize 8: Evolution Stone x5
8th Round
Grand Prize: Adv Togi Grabber x7
Prize 1: Mirror Image x1
Prize 2: Gold x90,000
Prize 3: Spirit Ember x50
Prize 4: Basic Seasoning x10
Prize 5: Commission Voucher x8
Prize 6: Black Tea Trial Ticket x2
Prize 7: Tom Yum Trial Ticket x8
Prize 8: Cloud Tea Trial Ticket x1
9th Round
Grand Prize: Adv Togi Grabber x8
Prize 1: Black Tea Trial Ticket x2
Prize 2: Exploration Speed Up Coupon x10
Prize 3: UR Trial Ticket x1
Prize 4: Commission Voucher x8
Prize 5: Basic Seasoning x10
Prize 6: Gold x90,000
Prize 7: Spirit Ember x50
Prize 8: Tom Yum Trial Ticket x7
10th Round
Grand Prize: Adv Togi Grabber x9
Prize 1: Commission Voucher x8
Prize 2: Spirit Ember x50
Prize 3: Cloud Tea Trial Ticket x1
Prize 4: Exploration Speed Up Coupon x8
Prize 5: Tom Yum Trial Ticket x6
Prize 6: Black Tea Trial Ticket x4
Prize 7: Gold x90,000
Prize 8: Basic Seasoning x10
11th Round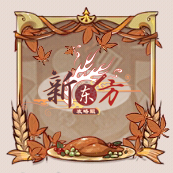 Grand Prize: Harvest Day Frame
Prize 1: Black Tea Trial Ticket x4
Prize 2: Basic Seasoning x10
Prize 3: Spirit Ember x50
Prize 4: Cloud Tea Trial Ticket x1
Prize 5: Commission Voucher x8
Prize 6: Gold x90,000
Prize 7: Tom Yum Trial Ticket x6
Prize 8: Exploration Speed Up Coupon x8